Introduction
Nestled in the lush green hills of Himachal Pradesh, Shimla stands as a timeless gem among India's hill stations. With its enchanting landscapes, colonial architecture, and rich cultural heritage, Shimla has earned its reputation as the "Queen of Hill Stations." In this comprehensive guide, we will explore the beauty, culture, and attractions that make Shimla an irresistible destination for travellers.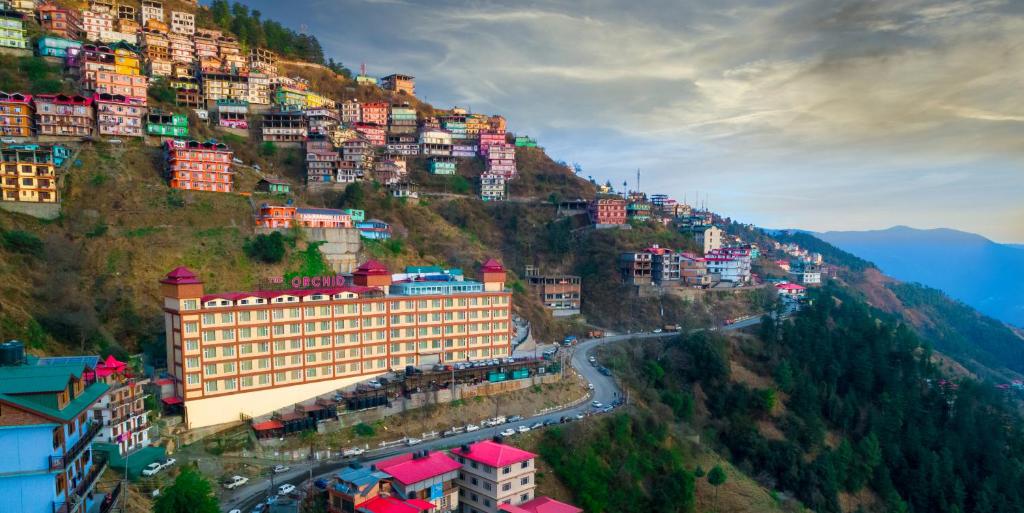 Overview of Shimla
Shimla, the capital city of Himachal Pradesh, is located in the northwest Himalayas. This picturesque town was the summer capital of British India and still retains the charm of its colonial past. Shimla's mild summers, snowy winters, and year-round appeal have made it a sought-after destination for travellers from across the globe.
How to Reach Shimla
By Road
Shimla is well-connected by road, with regular bus services from major cities like Delhi, Chandigarh, and Manali. The journey to Shimla is a scenic one, winding through the Himalayan foothills.
By Rail
The nearest railway station to Shimla is Kalka, which is part of the UNESCO World Heritage-listed Kalka-Shimla Railway. The toy train ride from Kalka to Shimla is a mesmerizing experience, offering breathtaking views of the hills.
By Air
The nearest airport is Jubbarhatti Airport, located about 22 kilometres from Shimla. While it's a small airport with limited flights, it provides a convenient option for those who prefer air travel. From the airport, you can hire a taxi or take a shared cab to reach Shimla.
Best Time to Visit
Shimla is a destination that can be enjoyed throughout the year, and each season brings its unique charm.
Summer (March to June): The summer months are ideal for escaping the scorching heat of the plains. Shimla's pleasant weather and lush landscapes make it perfect for strolls and sightseeing.
Monsoon (July to September): While Shimla receives moderate rainfall during this season, the misty mountains and the town's less crowded ambience offer a serene escape for travellers.
Autumn (October to November): Autumn brings cool and crisp weather with clear skies, making it an excellent time for trekking and exploring the outdoors.
Winter (December to February): Winters in Shimla are chilly, and the town is blanketed in snow, creating a winter wonderland. This is the perfect season for snow sports and cozying up by the fireplace.
Top Tourist Attractions
Shimla offers a wealth of attractions that reflect its natural beauty and historical significance.
The Ridge
The Ridge is the heart of Shimla, offering panoramic views of the surrounding hills. It's a popular spot for leisurely walks and capturing mesmerizing sunsets.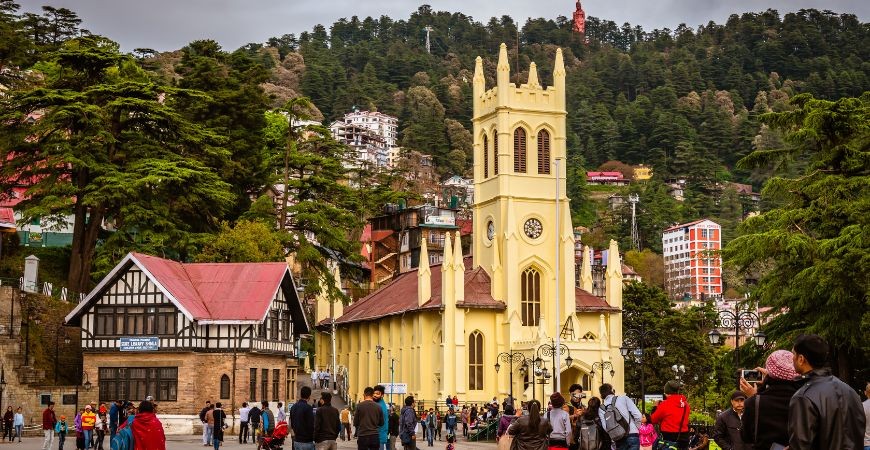 Mall Road
Mall Road is the lifeline of Shimla's shopping and dining scene. Lined with shops, cafes, and restaurants, it's perfect for a stroll and trying local delicacies.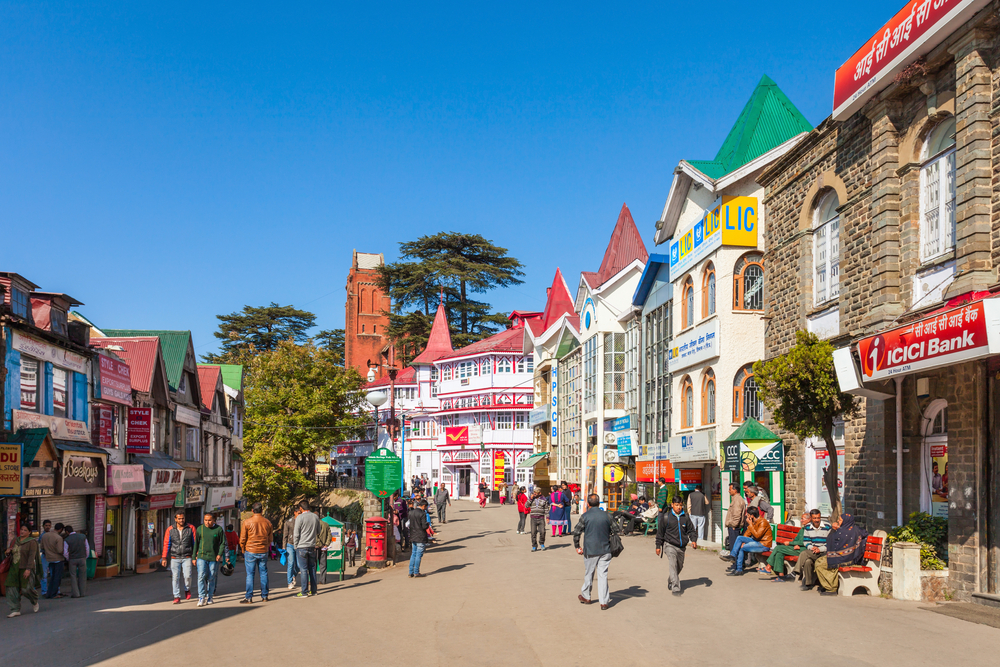 Jakhoo Temple
Perched on Jakhoo Hill, this ancient temple is dedicated to Lord Hanuman. The hill provides stunning views of Shimla, and you might even spot some mischievous monkeys along the way.
Shimla State Museum
The museum showcases Himachal Pradesh's rich cultural heritage with a collection of historical artifacts, traditional Himachali costumes, and rare paintings.
Kufri
Kufri, located just a short drive from Shimla, is known for its panoramic views and the Mahasu Peak, which offers a great vantage point for photography.
Chail
A short drive from Shimla, Chail boasts the highest cricket ground in the world and the historic Chail Palace, which is now a heritage hotel.
The Christ Church
The second oldest church in North India, the Christ Church's neo-Gothic architecture and stunning stained glass windows make it a must-visit.
Outdoor Activities
Shimla offers a plethora of outdoor activities that cater to adventure enthusiasts and nature lovers.
Trekking and Hiking
Explore the lush green forests and scenic trails of Shimla through trekking and hiking. Popular trekking routes include the Glen Forest and the Jakhu Temple trek.
Horse Riding
Horse riding is a fun way to explore Shimla's picturesque landscapes. Horseback rides are available along the Ridge and the Mall Road.
Ice Skating (In Winter)
In winter, the Shimla Ice Skating Club opens its rink, and skating enthusiasts can glide on the frozen surface.
Golfing
Shimla has a historic golf course at Naldehra, set against a backdrop of lush greenery and snow-capped mountains. It's one of the most scenic golf courses in India.
Nature Walks
Enjoy leisurely walks through the dense forests surrounding Shimla. You can spot various bird species and immerse yourself in the tranquillity of nature.
Historical and Cultural Exploration
Shimla's rich history as the summer capital of British India and its vibrant Himachali culture offers numerous opportunities for exploration.
Colonial Architecture
Explore the colonial-era architecture, including heritage buildings like Viceregal Lodge, Gorton Castle, and the Railway Board Building.
Himachali Culture
Participate in local cultural events, attend traditional fairs, and experience the famous Dussehra festival, which is celebrated with grand processions and cultural performances.
Accommodation Options
Shimla offers a wide range of accommodation options to suit different preferences and budgets. Here are a few recommendations:
Wildflower Hall, An Oberoi Resort: A luxury resort offering stunning views and world-class amenities.
The Clarkes Hotel: A heritage hotel that offers a blend of colonial charm and modern comfort.
Hotel Willow Banks: A mid-range option with a central location, comfortable accommodations, and scenic views.
The Mall Shimla: A budget-friendly choice for travellers looking for affordable and clean accommodations.
When planning your stay in Shimla, especially during peak tourist seasons, it's advisable to book your accommodations in advance to secure your preferred choice.
Local Cuisine and Dining
Shimla offers a variety of dining options, where you can savour the flavours of Himachali cuisine, as well as Indian and international dishes. Don't miss the opportunity to try Himachali specialities like Chana Madra, Dham, and Babru, accompanied by local bread called Babru.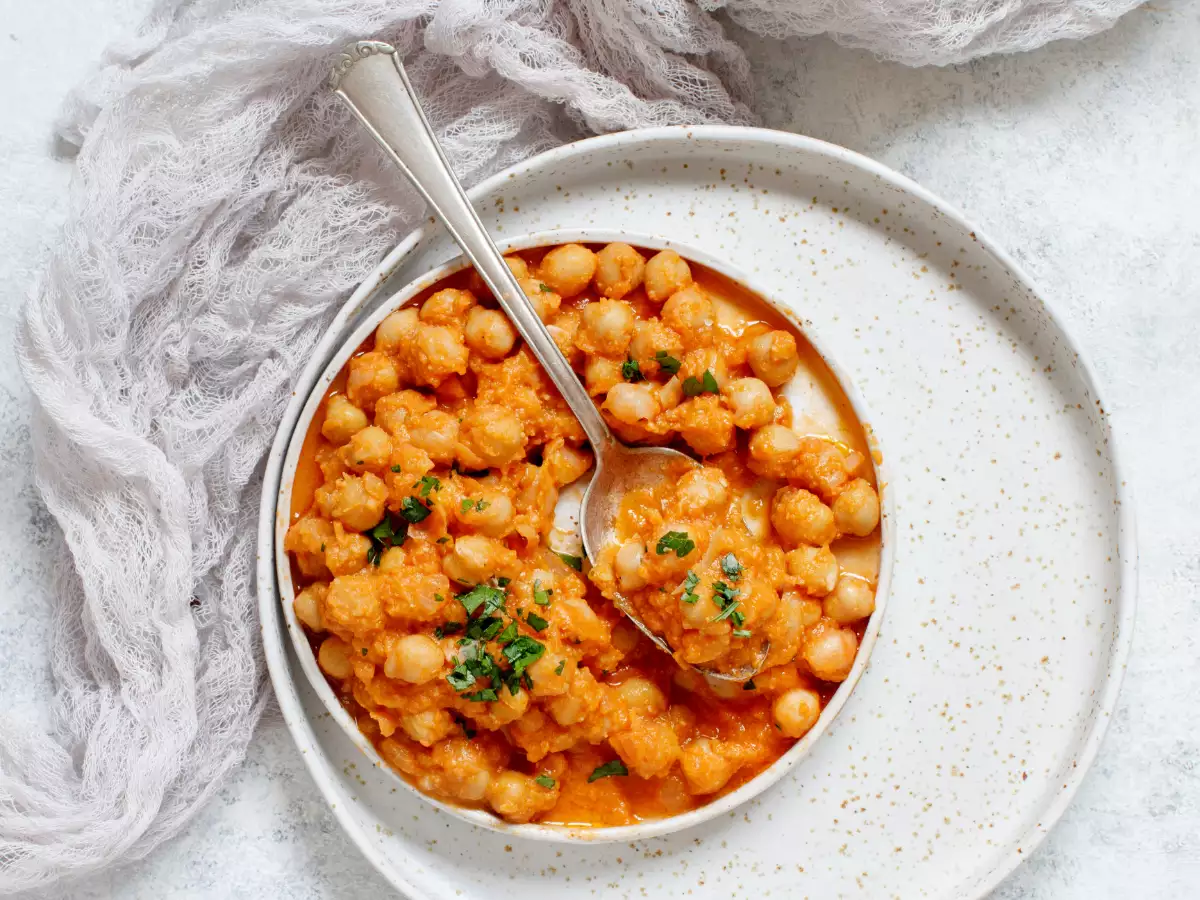 Shopping in Shimla
Shimla's markets offer a delightful shopping experience. You can explore places like Lakkar Bazaar, Mall Road, and the Tibetan Market for souvenirs, handicrafts, woollens, and traditional jewellery.
Hidden Gems
While Shimla's well-known attractions are a must-visit, there are also hidden gems waiting to be explored by travellers looking for unique experiences:
Gaiety Theatre: This historic theatre hosts cultural performances and plays, offering a glimpse into Shimla's artistic heritage.
Viceregal Lodge and Botanical Gardens: Located a short distance from Shimla, this historic lodge and its beautiful gardens are an architectural delight.
Travel Tips
Before embarking on your Shimla journey, here are some essential travel tips to keep in mind:
1. Pack According to the Season: The weather in Shimla can vary greatly by season, so pack accordingly to ensure a comfortable stay.
2. Local Transportation: While exploring Shimla, consider using local modes of transportation such as taxis and rickshaws.
3. Respect Local Customs: Show respect for local customs and traditions. Seek permission before photographing individuals, especially in rural areas.
4. Stay Hydrated: The hill station's climate can lead to dehydration, so carry a reusable water bottle to stay hydrated.
Conclusion
Shimla, the "Queen of Hill Stations," is a destination that offers a perfect blend of natural beauty, history, and culture. Whether you're an adventure enthusiast, a history buff, or someone looking for a tranquil escape in the Himalayas, Shimla has something for everyone. This guide aims to provide you with the insights and information needed to plan your journey effectively. However, the true allure of Shimla can only be experienced in person. So, pack your bags, plan your journey, and immerse yourself in the timeless beauty and rich culture of Shimla.
Additional Resources
For more detailed information and the latest updates, you can visit the Official Shimla Tourism Website.
Call to Action
If you've visited Shimla or have any questions about planning your trip, we'd love to hear from you. Share your experiences, tips, or inquiries in the comments below or connect with us on social media. Your adventure in the "Queen of Hill Stations" awaits, and we hope it's as enchanting as you've imagined.
Read More – 
Mussoorie Travel Guide: Embrace Nature's Beauty in the Queen of Hills
Lansdowne: A Serene Hill Station Retreat in India
The Enchanting Capital of Uttarakhand: A Travel Guide to Dehradun
Auli: A Snowy Paradise in the Himalayas for Skiing and Scenic Beauty
Exploring Manali: A Complete Guide to the Ultimate Himalayan Getaway