Panchayat Season 2
Jitendra Kumar's highly anticipated sequel, Panchayat Season 2, has recently been released and is currently making headlines. The wait for the new season was worth it! In this comedy-drama directed by Deepak Kumar Mishra, Jitendra Kumar stars alongside Neena Gupta, Raghubir Yadav, and Chandan Roy.
"Panchayat" season 2 continues the journey of Abhishek Tripathi, a young engineering graduate who reluctantly takes on the role of a Panchayat secretary in the village of Phulera. The series, which is available for streaming on Prime Video, follows Abhishek as he encounters new challenges and adventures while navigating the idiosyncrasies of rural life in India.
About Panchayat Web Series
"Panchayat" is an Indian web television series that premiered on Amazon Prime Video in April 2020. The series is directed by Deepak Kumar Mishra and produced by TVF (The Viral Fever). It stars Jitendra Kumar, Neena Gupta, and Raghubir Yadav in lead roles.
The show follows the story of Abhishek Tripathi (played by Jitendra Kumar), a young graduate who takes up a job as a secretary in a rural Panchayat (village council) office in Uttar Pradesh. The series portrays Abhishek's struggles and adventures as he navigates the challenges of working in a remote village, dealing with eccentric villagers and his senior colleagues, and adapting to the rural lifestyle.
The series received positive reviews for its relatable characters, realistic portrayal of rural India, and humorous storytelling. It was praised for its insightful commentary on social issues such as education, gender discrimination, and rural development.
Read More: The Real Story Of Mafia Queen Gangubai Khatiawadi
Abhishek (Jitendra Kumar) works with the villagers in Phulera and has a good time. Chandan Kumar and Deepak Kumar Mishra's sensitive handling of Phulera's intriguing characters bring a sense of life to the film. Panchayat 2, a new Indian film set in the rural interior, has all the hallmarks of a unique cinematic experience.
Panchayat Season 1 brought us many memorable and powerful dialogues and now the Panchayat Season 2 dialogues are making waves everywhere. The dialogues are equally hilarious, relatable and easy to use in our daily lives.
Let's take a look at some of the best Panchayat 2 dialogues 
1. Dost yaar keh dene se dost yaar nahi ho jate pradhaan ji. Nibhana bhi padhta hai.
English – "Just calling someone a friend doesn't make them a friend, sir. You have to fulfil the responsibilities of being a friend as well."
Meaning – This dialogue emphasizes the importance of maintaining and nurturing relationships. It suggests that simply using the term "friend" does not automatically make someone a friend; rather, it is important to invest time and effort in building a genuine connection with others. The statement also suggests that being a true friend requires taking on certain responsibilities and fulfilling them in order to maintain a strong bond.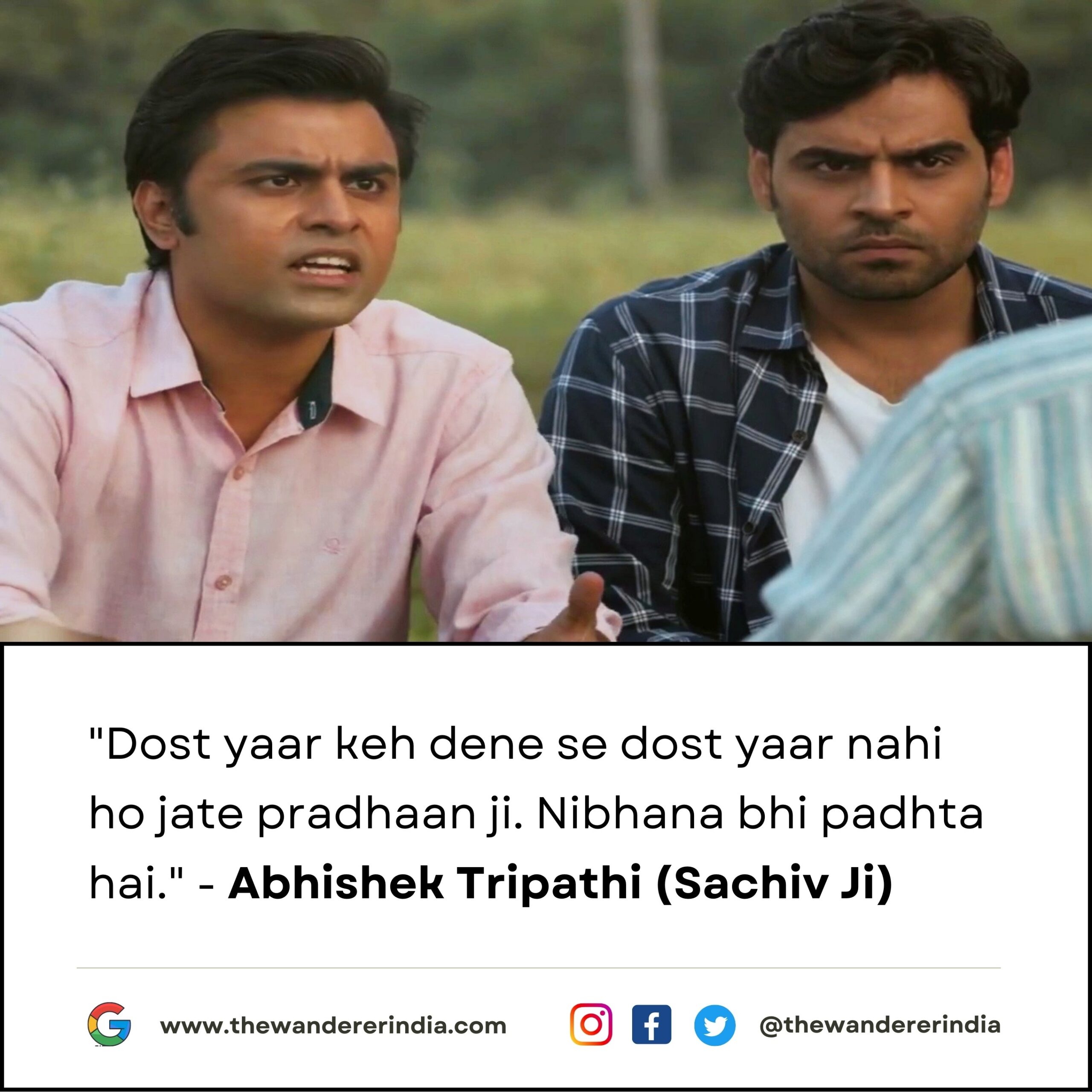 2. Jab tak seat nahi lag jaata, kahin aur jaa ke hag le. Kaha jaa ke hag le? Panchayat ke office me hag sakta hai.
English – "Until you find a toilet seat, go relieve yourself somewhere else. Where should I go? You can go and relieve yourself in the Panchayat office."
Meaning – The dialogue highlights the lack of basic facilities in rural areas, such as the absence of public toilets. It suggests that in the absence of proper sanitation facilities, one may have to resort to finding alternative locations to relieve oneself. The reference to the Panchayat office as a possible option for defecation is intended to be humorous, as it is not a conventional or appropriate place to use as a toilet.

3. Road ke liye bhale hi fund lagta ho Vidhayak Ji, lekin accha insaan banne mein fund nahi lagta hai
English – "Even if funds are allocated for roads, Vidhayak Ji, money isn't needed to become a good person."
Meaning – The dialogue highlights the idea that being a good person does not require wealth or resources. It suggests that while funds may be necessary for certain practical purposes such as building roads, they are not necessary for cultivating good character traits such as kindness, honesty, and compassion. The statement also implies that being a good person is more important than accomplishing material goals or accumulating wealth.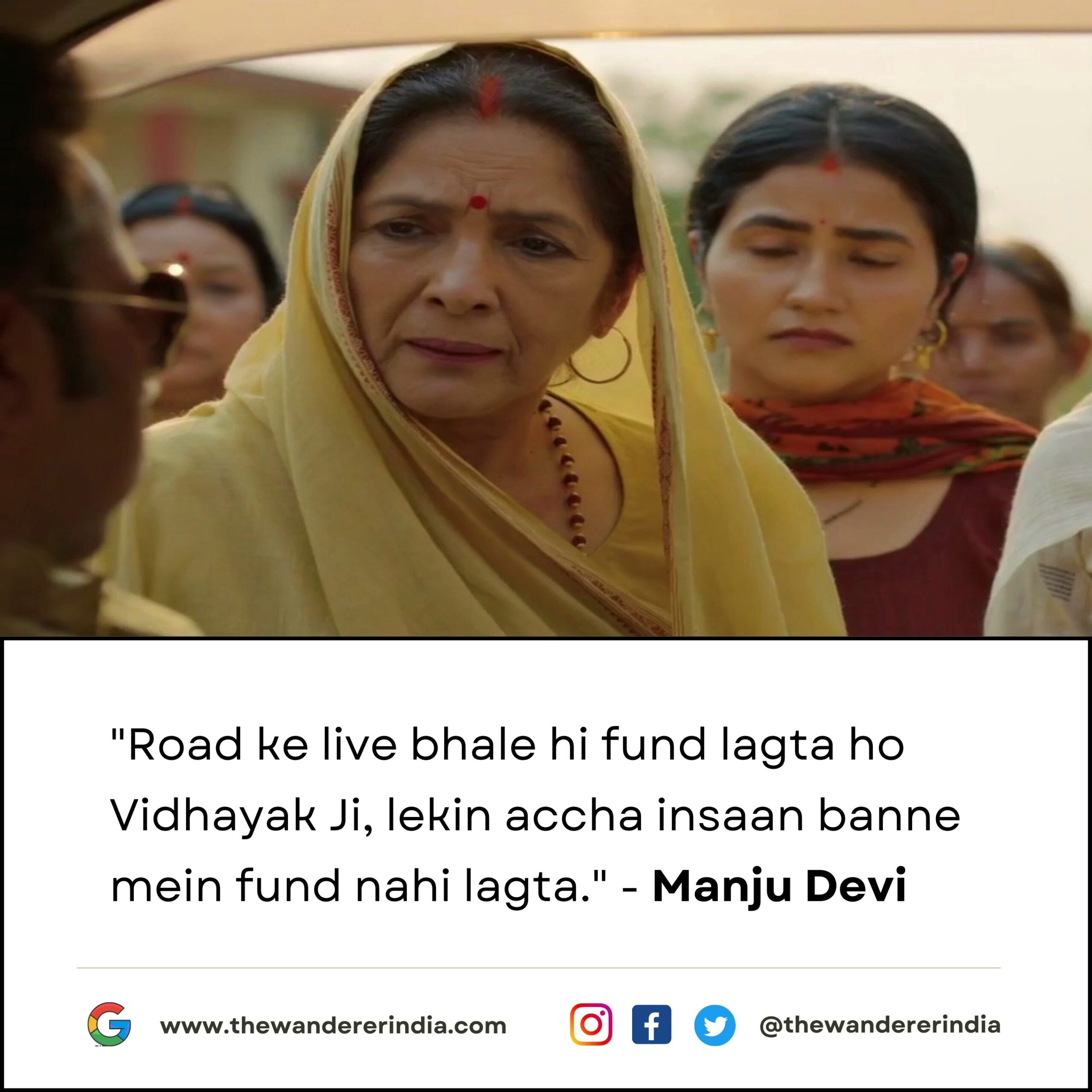 4. Ye jo tanki dekh rahe hai, upar chad kar gaon apko itna sundar lagega ki apko gaon se pyar ho jaayega.
English – "If you climb up the water tank and look around, the village will appear so beautiful to you that you will fall in love with it."
Meaning – The dialogue suggests that the village is a picturesque and charming place and that viewing it from a higher vantage point such as a water tank can enhance its beauty even more. It implies that taking the time to appreciate the natural beauty of the village can foster a sense of attachment and affection towards it. The statement also suggests that the beauty of the village is worth exploring and appreciating, even if it may not be immediately obvious at first glance.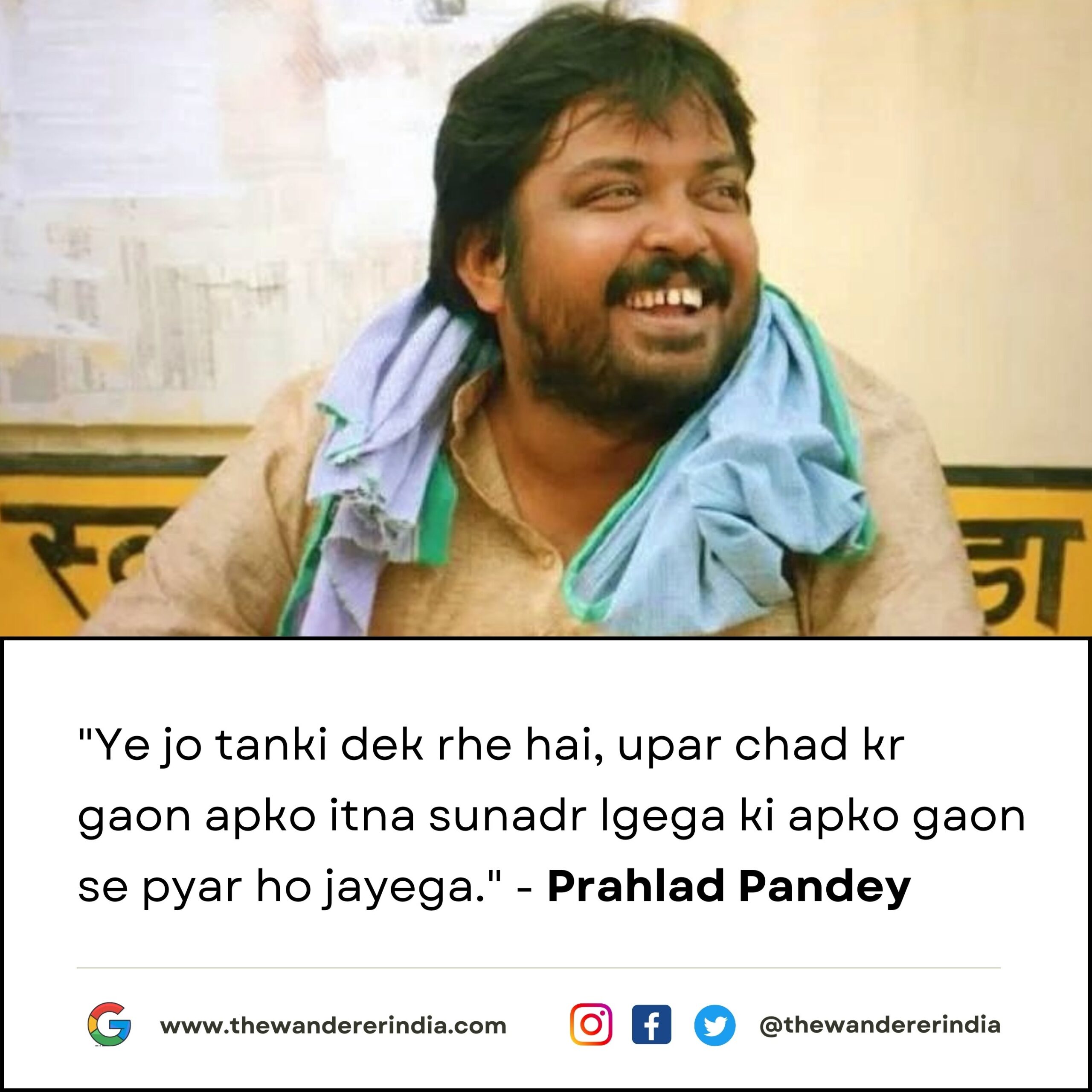 5. Ek Number Ke Banrakas Aadmi Hai, Aap Uski Baat Ka Jyada Value Mat Dijiye…
English – "He is a person who boasts a lot. Don't give too much value to his words."
Meaning – The dialogue suggests that the person being referred to tends to exaggerate or boast about their accomplishments, and may not necessarily be reliable or trustworthy. It advises not to take their words at face value, and to be cautious in giving too much importance or credence to what they say. The statement also implies that it is important to evaluate a person's character and track record, rather than blindly believing their claims or statements.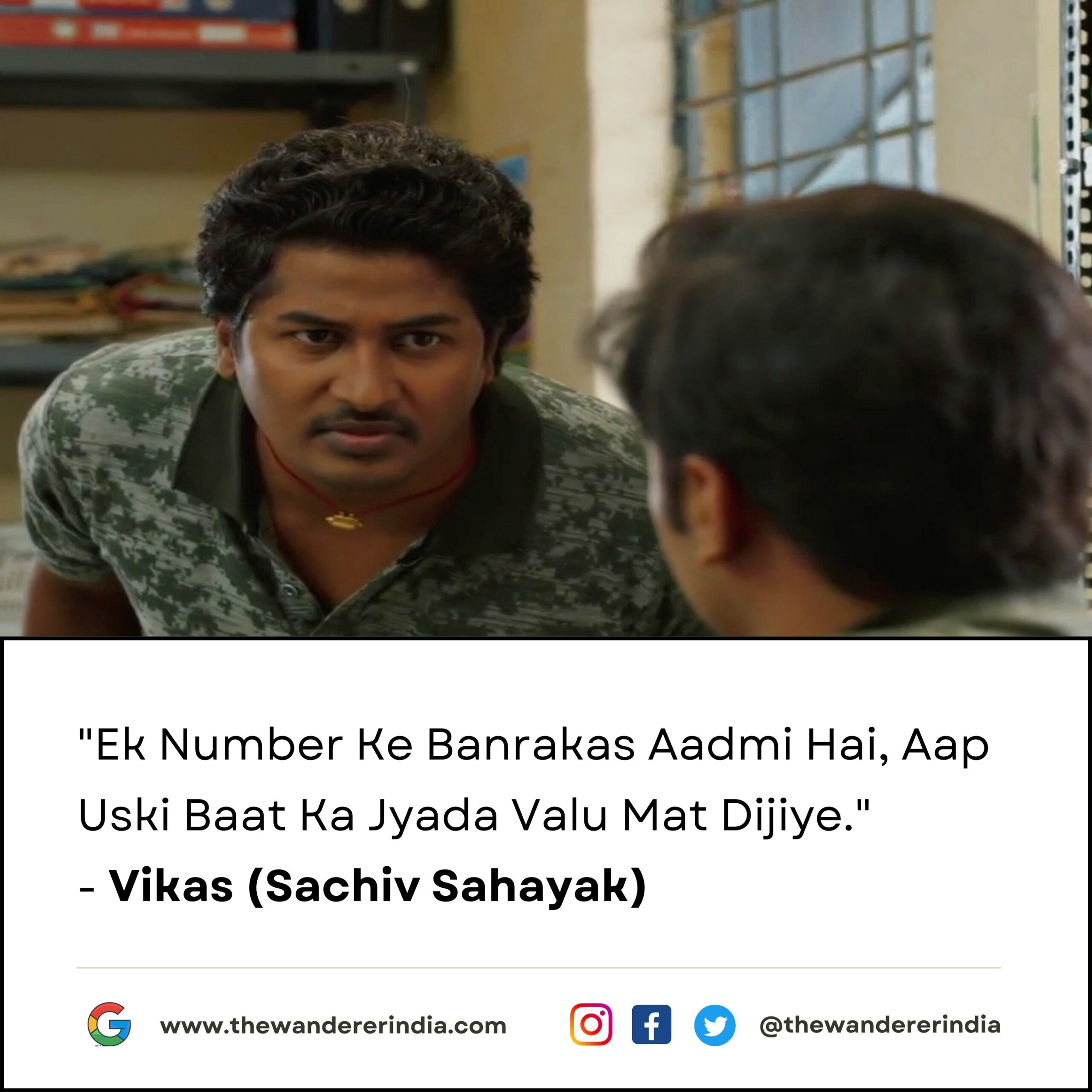 6. Arrey nahi yaar, bas kharcha pani chal raha hai… 1.5 crore ka package hai.
English – "Oh no, buddy, I'm just managing my expenses… I have a package of 1.5 crores."
Meaning – The dialogue is likely spoken in a lighthearted or sarcastic tone, and suggests that the person is downplaying their financial situation by casually mentioning a large salary package. It may imply that the person is not actually in need of money and is using the phrase "kharcha pani chal raha hai" (managing expenses) humorously to indicate that they are financially stable. The statement may also highlight the contrast between their seemingly casual attitude towards money and their actual financial status.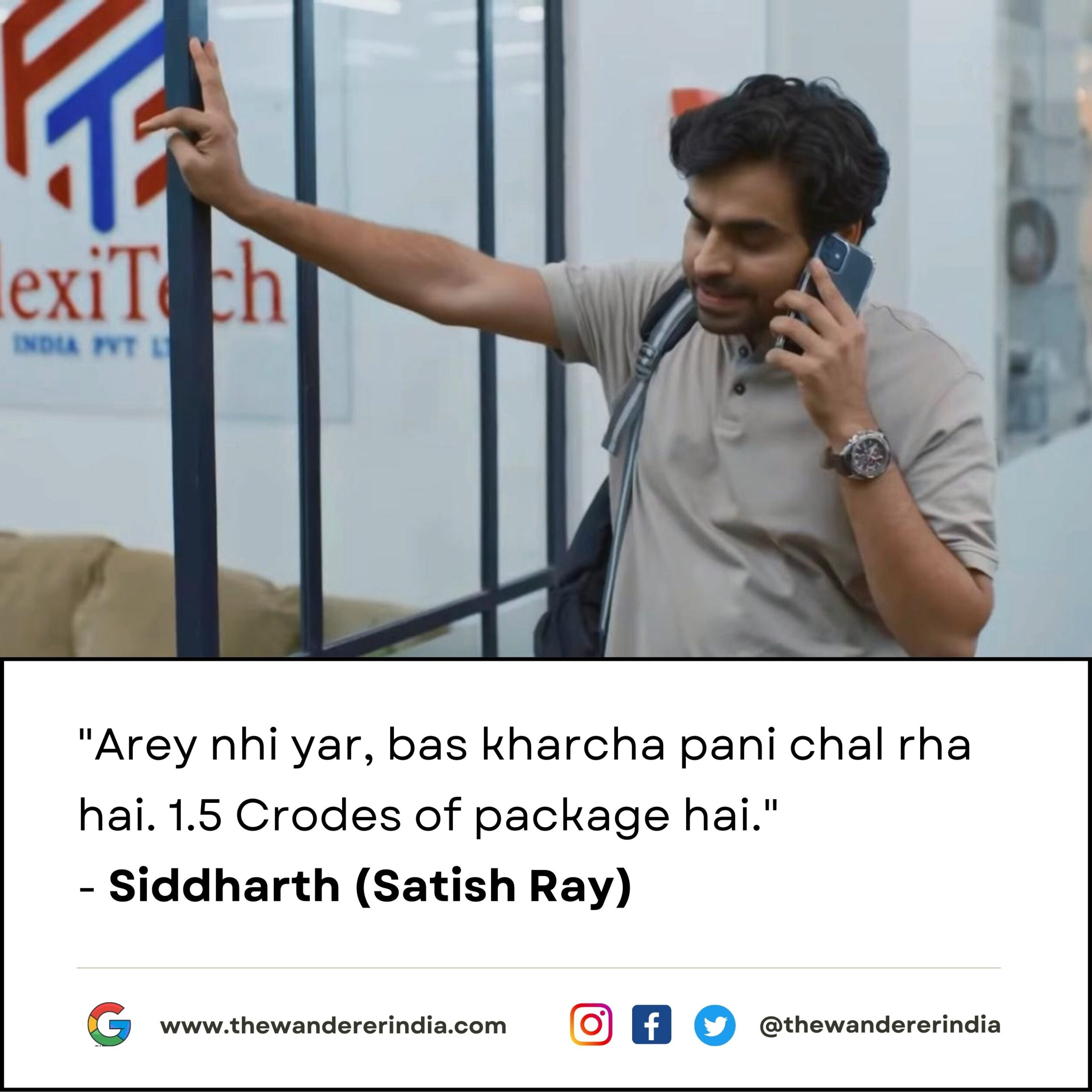 7. Jab shaadi hoga, bachcha hoga, aur yeh 20 hazaar me ghar chalana hoga na ta aap bhi sharaabi ban jaayenge.
English – "When you get married, have a child, and have to run a household on 20,000 rupees, even you will become an alcoholic."
Meaning – The dialogue suggests that running a household on a limited budget can be a challenging and stressful task and that it can drive people to adopt unhealthy coping mechanisms such as alcohol consumption. It implies that financial strain can have a significant impact on an individual's mental and emotional well-being and that it can lead to the adoption of unhealthy habits or behaviours. The statement also highlights the importance of financial planning and management in maintaining a healthy and stable lifestyle.

8. 20-30 hazar mein (desh ke liye) jaan dene wale aur kahan milenge?
English – "Where will we find those who are willing to sacrifice their lives for the country for just 20-30 thousand rupees?"
Meaning – The dialogue implies that the amount of money being offered as compensation for risking one's life for the country is insufficient and may not motivate people to make such a sacrifice. It suggests that the act of selflessly serving the nation requires a deep sense of commitment, patriotism, and dedication, and cannot be achieved through financial incentives alone. The statement also underscores the importance of recognizing the sacrifices made by soldiers and other individuals who put their lives on the line to protect their country.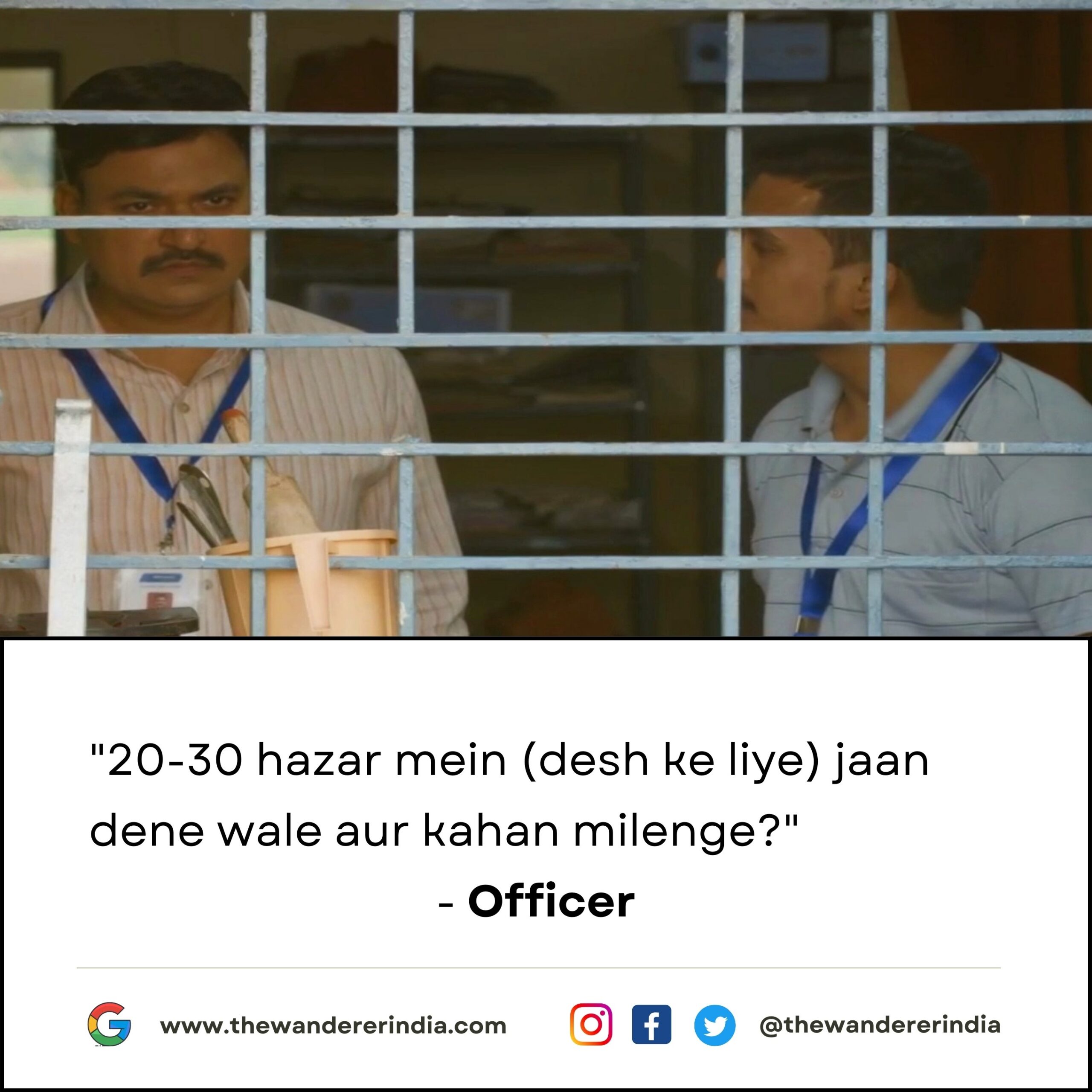 9. Aap logon ke liye office hai, mere liye toh ghar hi hai
English – "For you all, this is an office, but for me, it's like home."
Meaning – The dialogue suggests that the character speaking feels a strong sense of attachment or connection to the workplace, and considers it to be like a second home. It implies that the character may have spent a significant amount of time in the office and developed a sense of familiarity and comfort with the space. The statement also highlights the importance of creating a positive and welcoming work environment where employees can feel a sense of ownership and belonging towards.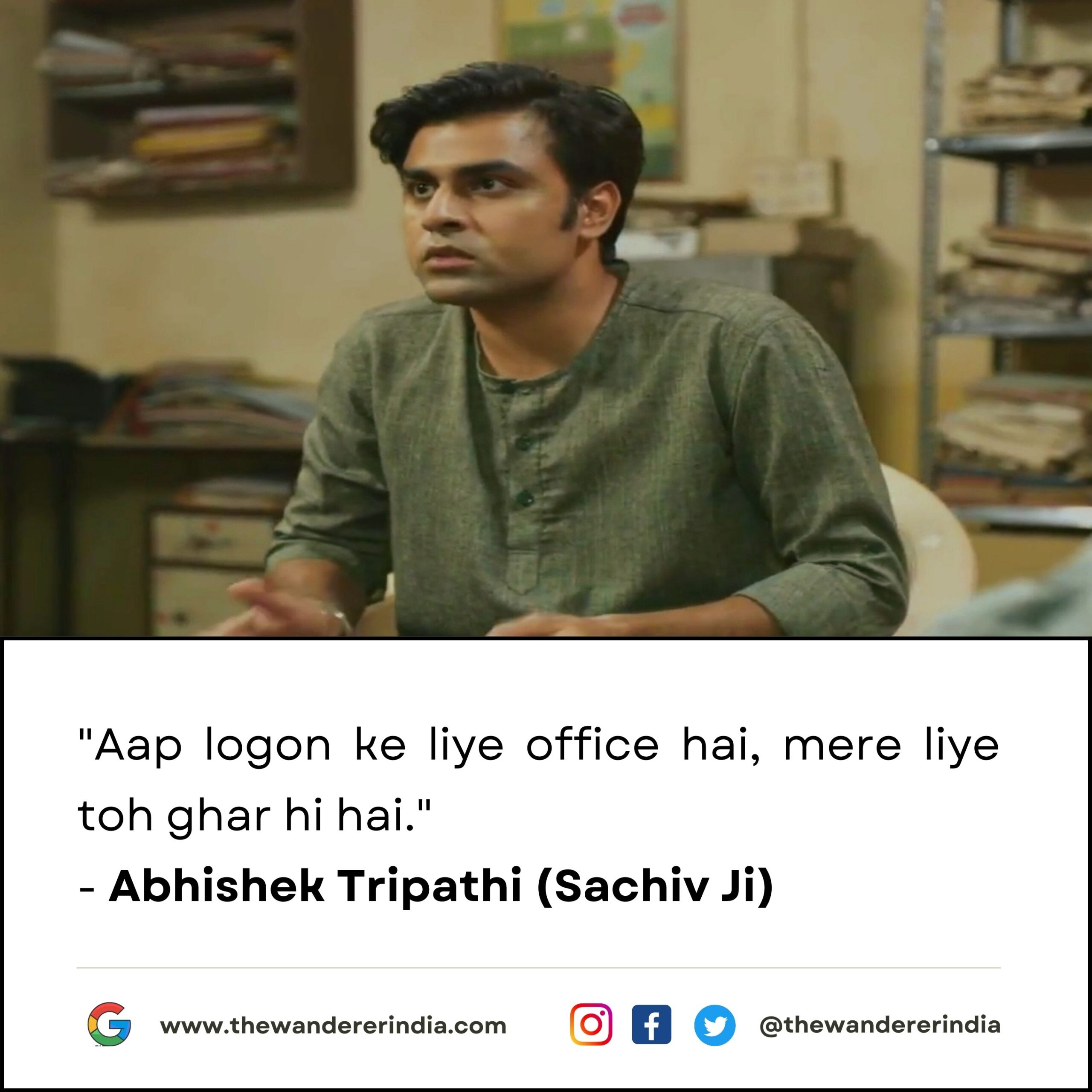 10. Matlab ap bhi ek tarah se naach hi rahe hai. Har koi kahi na kahi naach hi rha hai sachiv ji.
English – "It means you're also dancing in your own way. Everyone is dancing in their own way, Secretary."
Meaning- The dialogue suggests that the character speaking perceives that everyone is trying to make their own way in the world, and may be struggling to find their footing or achieve their goals. It implies that the character may be sympathetic to the challenges faced by others, and acknowledges that everyone has their own unique perspective and approach to life. The statement also underscores the importance of empathy and understanding in navigating complex social relationships and situations.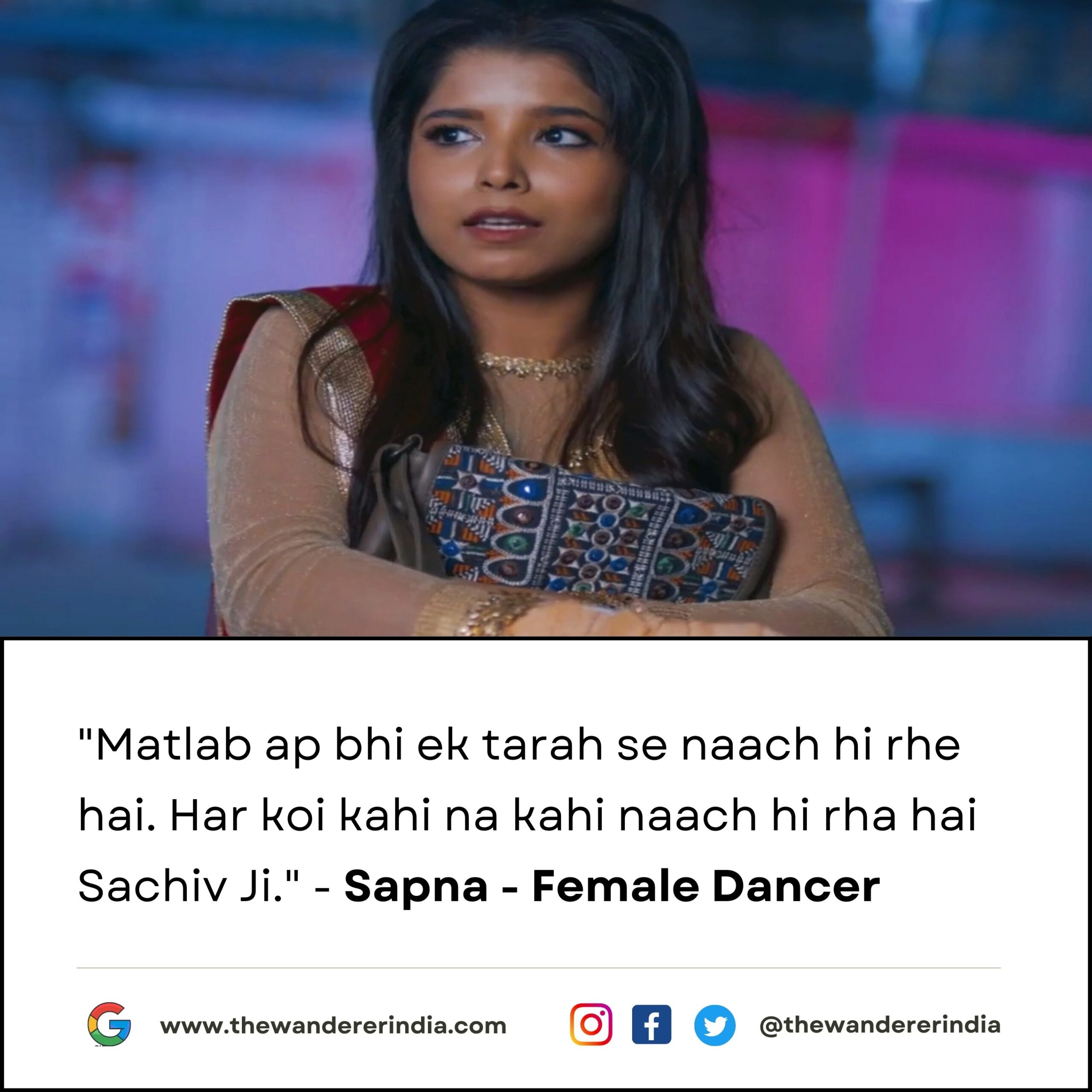 Conclusion
In conclusion, these were some of the popular Hindi dialogues from the Indian web series "Panchayat 2." The series explores the experiences of an engineering graduate who reluctantly takes on the role of Panchayat secretary for a village. The dialogues touch upon various themes such as financial management, patriotism, work culture, empathy, and social dynamics. The show has gained popularity for its relatable characters and humorous yet poignant storytelling.
Watch the TWI Stories –