The Himalayas have long been a symbol of awe-inspiring beauty and adventure, and the Hampta Pass Trek in Himachal Pradesh takes you to the very heart of these majestic mountains. This trek is a spellbinding journey that encompasses lush green valleys, stark deserts, pristine glacial lakes, and charming villages. In this comprehensive guide, we will embark on a virtual adventure, exploring the wonders of the Hampta Pass Trek, and providing you with all the information you need to plan your trekking expedition.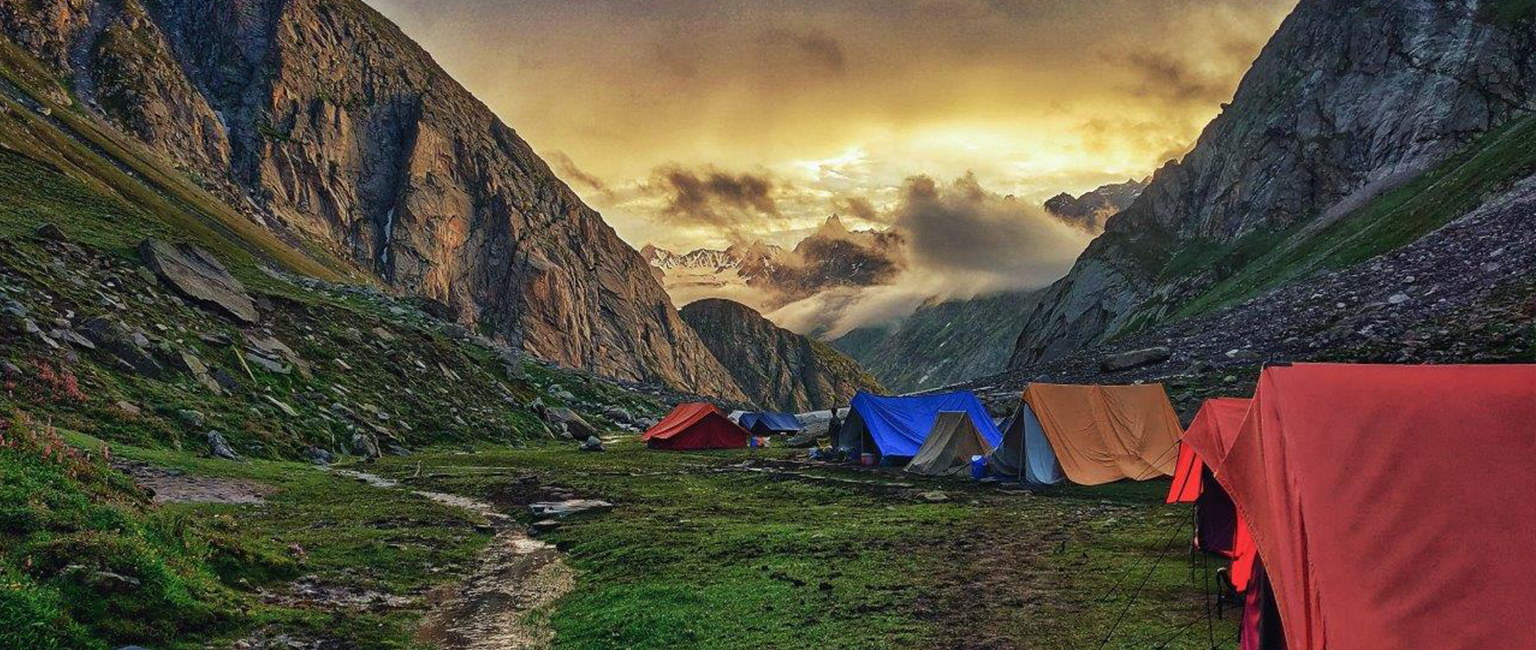 Overview of Hampta Pass Trek
Nestled in the Kullu Valley of Himachal Pradesh, the Hampta Pass Trek is renowned for its accessibility and diverse landscapes. The trek offers a perfect blend of adventure and natural beauty, making it a favourite among trekkers. Whether you are an experienced trekker or a beginner, the Hampta Pass Trek has something to offer.
Location
The trek begins at Jobra, near Manali, and takes you through the Pir Panjal range to the Lahaul and Spiti Valley.
Duration
The trek usually spans 4 to 6 days, depending on the route and weather conditions.
Difficulty
The trek is of moderate difficulty, with some challenging sections, but it's suitable for trekkers with a range of experience levels.
Best Time to Trek
The best time to embark on the Hampta Pass Trek is during the post-monsoon season, from mid-June to mid-October. Treks during other seasons can be challenging due to heavy snowfall or rain-induced landslides.
How to Reach the Base Camp of Hampta Pass?
To begin your Hampta Pass Trek, you'll need to reach the base camp at Jobra. Here's how you can get there:
By Road
The most common route is from Manali, which is well-connected to major cities like Delhi and Chandigarh. The scenic drive to Jobra is a memorable part of your journey.
By Rail
The nearest railway station is Joginder Nagar, which is approximately 165 kilometres from Manali. From Joginder Nagar, you can hire a taxi to reach Manali and then continue to Jobra.
By Air
Bhuntar Airport, also known as Kullu-Manali Airport, is the closest airport to Manali. Upon landing, you can hire a taxi or take a local bus to reach Manali and subsequently travel to Jobra.
Best Time to Hampta Pass Trek 
Trekking the Hampta Pass requires careful consideration of the season, as weather conditions can be extreme in the Himalayas. Here are the best times to trek:
Post-Monsoon Season (Mid-June to mid-October)
This is the ideal time for the trek. The weather is pleasant, and the snow has melted, allowing you to witness a lush landscape. The skies are usually clear, and it's relatively safer in terms of weather conditions.
Pre-Monsoon Season (May to Mid-June)
The pre-monsoon season is also suitable for the trek, but you might encounter snow at higher altitudes. Be prepared for the occasional snowfall.
Winter Season (November to April)
Winter treks are for experienced trekkers and offer a completely different experience. You'll need to contend with snow and freezing temperatures. Ensure you have the appropriate gear and expertise.
Monsoon Season (July to September)
Monsoon is not recommended for the trek due to the risk of landslides, heavy rain, and leeches. It's best to avoid trekking during these months.
Trek Itinerary
The Hampta Pass Trek offers a diverse and enchanting journey through various landscapes. Here's a day-by-day itinerary of the trek:
Day 1: Jobra to Chika
The trek begins at Jobra, where you'll walk through thick forests of pine and maple trees.
Reach Chika, a beautiful campsite surrounded by lush greenery and the Rani River.
Day 2: Chika to Balu Ka Gera
Trek along the river and cross several glacial streams.
Reach Balu Ka Gera, a campsite located at the base of Hampta Pass.
Day 3: Balu Ka Gera to Shea Goru via Hampta Pass
This is a challenging day as you cross the Hampta Pass, which is often snow-covered.
Witness breathtaking panoramic views of the surrounding peaks.
Descend to Shea Goru and camp by a clear stream.
Day 4: Shea Goru to Chatru
Trek through barren, lunar-like landscapes.
Reach Chatru, a remote camping site that acts as a crossroads between Lahaul and Spiti Valley.
Day 5: Chatru to Chandratal Lake
Take a drive to Chandratal Lake, a stunning high-altitude glacial lake.
Enjoy the pristine surroundings and camp by the lake.
Day 6: Chandratal Lake to Manali
After breakfast, drive back to Manali, marking the end of your trek.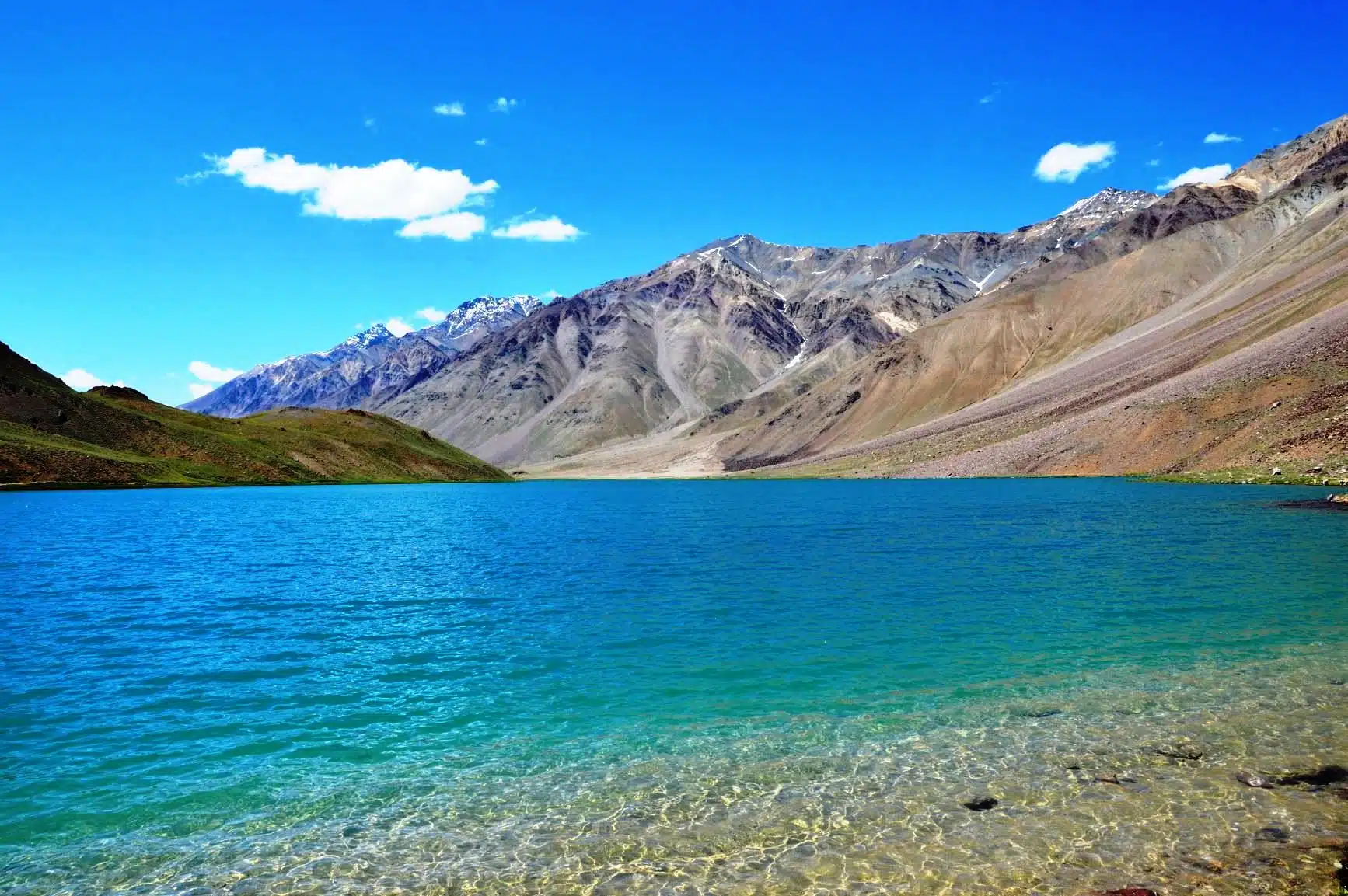 Highlights of the Trek
The Hampta Pass Trek is filled with awe-inspiring highlights, including:
Chika: A serene campsite surrounded by tall trees and the gentle Rani River.
Balu Ka Gera: A campsite at the base of Hampta Pass with a breathtaking view of the surrounding mountains.
Hampta Pass: The high mountain pass that connects Kullu and Lahaul and offers panoramic vistas of the Himalayas.
Shea Goru: A campsite nestled in a remote valley with a clear stream and stunning landscapes.
Chandratal Lake: A pristine glacial lake, often referred to as the "Moon Lake," offering mesmerizing reflections of the surrounding peaks.
Lahaul and Spiti Valley: Explore these remote, high-altitude valleys with unique cultures and landscapes.
Manali: The picturesque hill station that serves as the gateway to your adventure.
Flora and Fauna
The Hampta Pass Trek takes you through diverse ecosystems, and you'll encounter a variety of flora and fauna. The lower regions are rich in pine and maple forests, while the higher reaches are marked by alpine vegetation. Keep an eye out for Himalayan birds and mammals such as the Himalayan tahr, marmots, and snow leopards.
Camping and Accommodation
Camping is an integral part of the Hampta Pass Trek. You'll be provided with tents and sleeping bags at each campsite, along with hot meals prepared by the support staff. Additionally, basic guesthouses or homestays may be available in some parts of the trek, providing a different experience.
Local Cuisine
Trekking in the Himalayas is not just about the breathtaking landscapes but also about savouring the local cuisine. Enjoy hearty Himachali and Ladakhi dishes such as Chana Madra, Babru, and Momos, along with traditional snacks and teas that warm the heart and soul.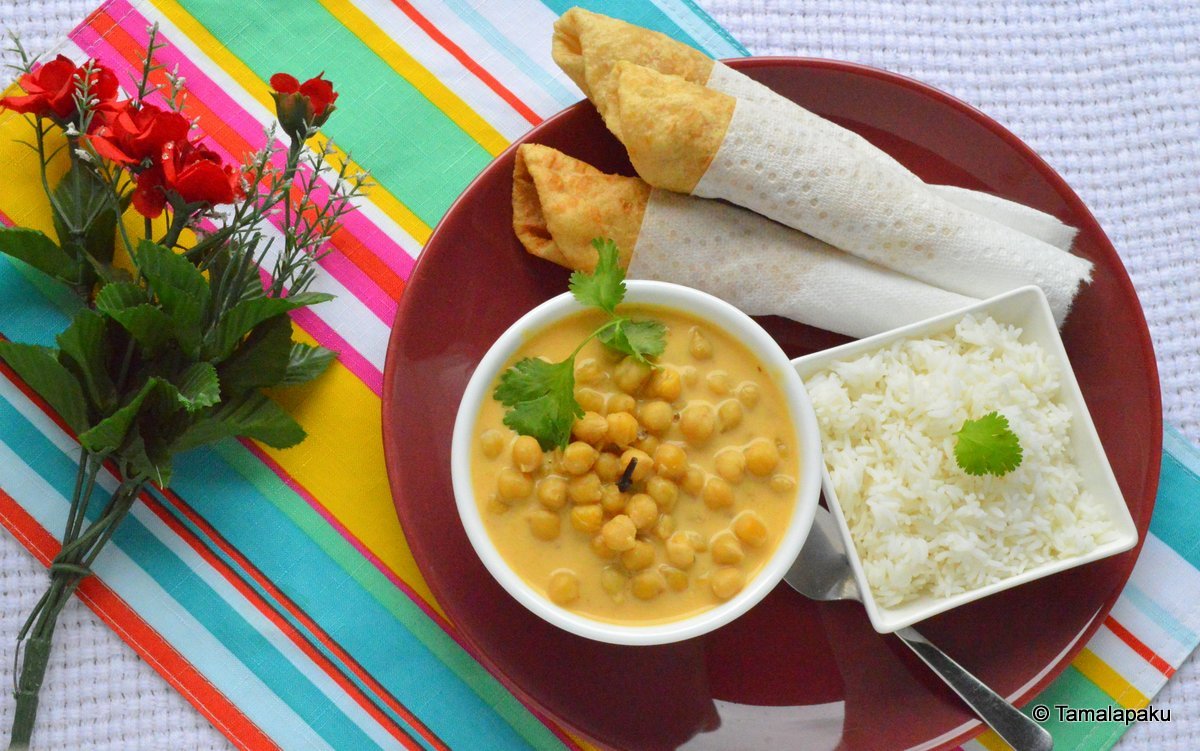 Challenges and Preparations
Trekking the Hampta Pass, while incredibly rewarding, does come with its share of challenges. Here are some tips and preparations to keep in mind:
Fitness: Prepare yourself physically with regular cardio workouts and strength training.
Acclimatization: Spend a day in Manali before the trek to acclimatize to the altitude.
Packing: Pack appropriately with warm clothing, waterproof gear, and a good-quality backpack.
Footwear: Invest in comfortable, waterproof trekking shoes with good grip.
Safety and Health Tips
Safety is a paramount concern in the mountains. Here are some safety and health tips for trekkers:
Altitude Sickness: Be aware of the symptoms and carry the necessary medications.
Hydration: Stay hydrated and avoid alcohol and smoking.
Weather Awareness: Monitor the weather forecast, especially during the monsoon season.
First Aid: Carry a basic first aid kit for minor injuries and illnesses.
Responsible Trekking
Responsible trekking is essential to preserve the fragile Himalayan ecosystem. Follow Leave No Trace principles, dispose of waste responsibly, and show respect for local cultures and traditions.
Conclusion
Trekking the Hampta Pass is a journey that will etch its beauty and adventure into your memory forever. From lush green valleys to barren deserts and glacial lakes, this trek offers an array of landscapes and experiences. It's an opportunity to connect with nature and challenge yourself in the heart of the Himalayas. So, pack your bags, prepare well, and embark on this incredible journey of a lifetime.
Additional Resources
For more detailed information and the latest updates, you can visit the Official Himachal Pradesh Tourism Website.