Who says that healthy food cannot be tasty? We all love to savour food that is tasty, healthy, and full of flavours. But this love ends up indulging in street food that merely offers health benefits as it is cooked in unhygienic conditions. Instead of eating food made with excessive oil, we should look for recipes that contain healthy ingredients. And what would be better than sprouts recipes? Sprout recipes have recently been introduced and have a long way to go. Dishes made of sprout are incredibly tasty and offers immense health benefits as sprouts are a rich source of nutrients. Sprouts control sugar levels and improve the functioning of the heart and brain. Sprouts can be eaten at any time of the day but eating sprouts before dinner increases appetite and help digest the food properly. 
Well, excess to anything can be detrimental to health. So, you can include sprouts alternatively in your meal. If you are looking for food that offers taste along with health then check out the best sprout recipes below. 
Top Sprouts Recipes – 
1. Moong Bean Sprout
Salad
A salad made with a variety of veggies is completely a wholesome dish, but the insertion of sprouts makes it even more indulging. Moong bean sprout salad takes all the healthy ingredients like moong beans, onions, tomatoes, peanuts, mint leaves, coriander, and an assortment of tangy herbs. The sprinkling of lemon drops enhances the taste and joy of eating. Moong bean sprout salad is an ideal breakfast that helps reduce weight and keeps the body active throughout the day.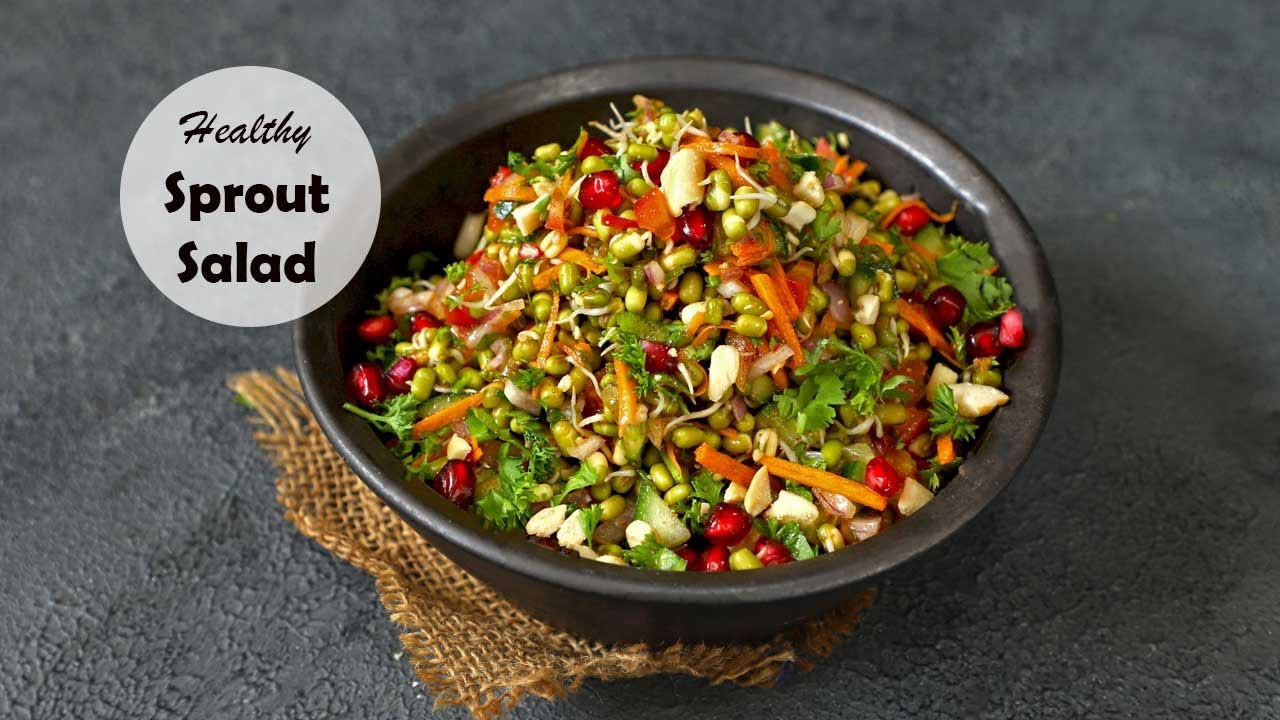 2. Sprouts Khichdi
In the hard routine of life, we fail to pay heed to our health. Whenever you run short of time, sprout khichdi will surely help you save time. Sprout khichdi is a simple dish that hardly takes fifteen minutes to come to your platter. Loaded with proteins and fibres, sprouts khichdi taste delicious and take a few ingredients. The recipe for sprouts khichdi is similar to any other khichdi, it is the moong bean that makes it special and nutritious.
3. Sprouts Soup
We all look for different ideas to reduce the time we spend in the kitchen. And the first thing that comes to mind is a bowl full of delicious soup. No joy can match the joy of sipping soup in winter and a soup made of sprouts help alleviate the feeling of cold. The recipe for sprout soup is simple, and easy, and takes a few ingredients to prepare. All you need to prepare this heart-warming soup is finely chopped vegetables like carrots, onions, boiled sprouts, and salt to taste. 
4. Sprouts Pulao
Well, the sprouts pulao cannot be so appealing for some people. But the health benefits offered by this wholesome dish will compel you to give it a try. Sprouts pulao consists of aromatic spices like cumin seeds, cloves, cinnamon, and bay leaves. To prepare this nutritious dish, temper all the spices along with finely chopped onions and tomatoes in a thick-bottomed pan. Once the spices are infused, add sprouts, rice, and a reasonable amount of water. Cover the lid and let it simmer for a few minutes. Sprout pulao goes well with curry and raita. 
5. Sprouts Curry
The nutritious sprouts floating in a thick curry will surely leave you licking your fingers. The protein-packed sprouts curry feels light on the stomach and is easy to digest. Sprouts curry can be served with plain rice, chapatti, and paratha. Make sure the whole moong beans are well soaked to experience the complete taste and flavors. 
6. Stir Fry Bean Sprouts
Burning fat is no longer an arduous task. Just savour a bowl of stir fry bean sprouts and you are good to go. The healthy and delectable stir-fry bean sprouts take only a few minutes to grace your platter. To prepare this wholesome dish, take a bowl and add vegetable oil. When the oil is hot add bean sprouts and veggies like mushrooms, carrots, and cabbage. Add soy sauce, salt, and sugar to taste. The taste of stir fry bean sprouts resembles the taste of fried noodles.
7. Mixed Sprouts Chaat
Give a pass to ubiquitous Aloo Chaat and get engrossed in the flavours of mixed sprouts chaat. The healthy chaat consists of soya beans, moong beans, diced paneer, coriander leaves, green chillies, tangy spices, chopped onions, and tomatoes. To savour the best flavours of the mixed sprouts chaat, combine all the ingredients in the tamarind chutney and adorn it with peanuts.